Discover the magic of Easter with Fleur Harris and GODIVA!
From the littlest of hearts to the biggest, Easter evokes a child-like excitement in all of us as magical moments unravel across celebrations held tightly by family and friends. Often back-dropped by the echoes of children's laughter and chocolate-filled bellies, Easter brings with it the promise of new beginnings and the opportunity for reflection, renewal and celebration of the season.
This Easter, Fleur Harris unveils her sweetest collaboration to date, teaming up with Belgium chocolatier, GODIVA, to create the most enchanted and delectable gifting experience for every age. Having famously pioneered a distinctive brand of mouth-watering luxury, GODIVA's obsession with the smallest of details and highest of quality made them a perfect match for the Fleur Harris brand.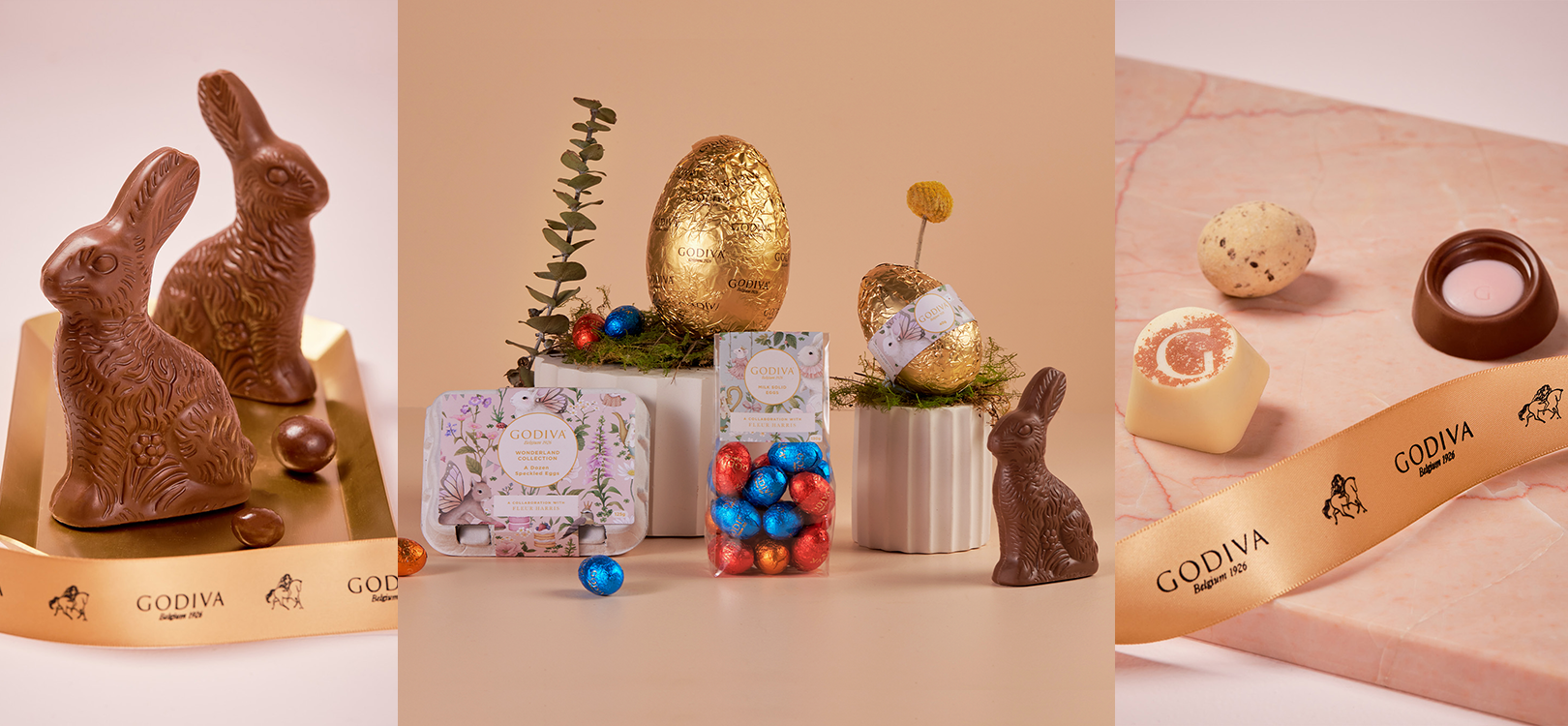 'Having meticulously crafted pralines from his home kitchen in Brussels, Pierre Draps first dreamt up GODIVA in 1926, with his children not long after joining him as collaborators.' From such humble beginnings, GODIVA has since gained 'a reputation for mastery across the globe' while simultaneously establishing themselves as the 'official chocolatier to the Belgian Royal Court.' 
'Loved around the world and recognised by the Belgian Royal Warrant, every piece of GODIVA brings you an unparalleled level of European sophistication. As exquisite today, as it has always been." godiva.com.au
Wonderfully romantic and fanciful, the Fleur Harris x GODIVA collab tastefully blends Fleur's whimsical aesthetic with GODIVA's premium chocolate range, making it the perfect choice for Easter gifting. With that, the ultimate luxury gifting experience awaits you! By pairing delights from the Fleur Harris x GODIVA collection with pieces from the beautiful Fleur Harris apparel range, you'll be waving a magic wand of enchantment over your Easter celebrations.

Come and explore Fleur's curated collection of the most bunny-ful gifts this season: 
Shorty Frill Sleepset - Sweet Garden paired with
GODIVA's Heartland Collection Gift Box
'Bunnyfly' Tee with 'Garden Party' Tulle Skirt paired with Gold Wrapped Milk Chocolate Eggs 
Sleeveless Dress Baby - Garden Party paired with Little Dreamers Milk Chocolate Bunny and Egg
Printed Romper paired with GODIVA's Wonderland Collection - A Dozen Speckled Eggs
With Easter just around the corner, the team at Fleur Harris wish you the most magical season filled with precious family moments and enchanting adventures.
With love,
The Fleur Harris team x
For more gorgeous Easter gifting ideas, the Fleur Harris team has gathered together all of our beautiful bunny-themed accessories and apparel pieces into the one place, making your Easter sel-egg-tions even easier! 
SHOP THE EASTER EDIT